Garden Kneeler And Seat With Tool Pouch – Portable Garden Bench EVA Foam Pad With Kneeling Pad for Gardening
The product arrived promptly and in good condition. I pulled it out of the box and it unfolded easily. The tool pouches are easy to add and remove as needed. The cushions are comfortable for both kneeling and sitting.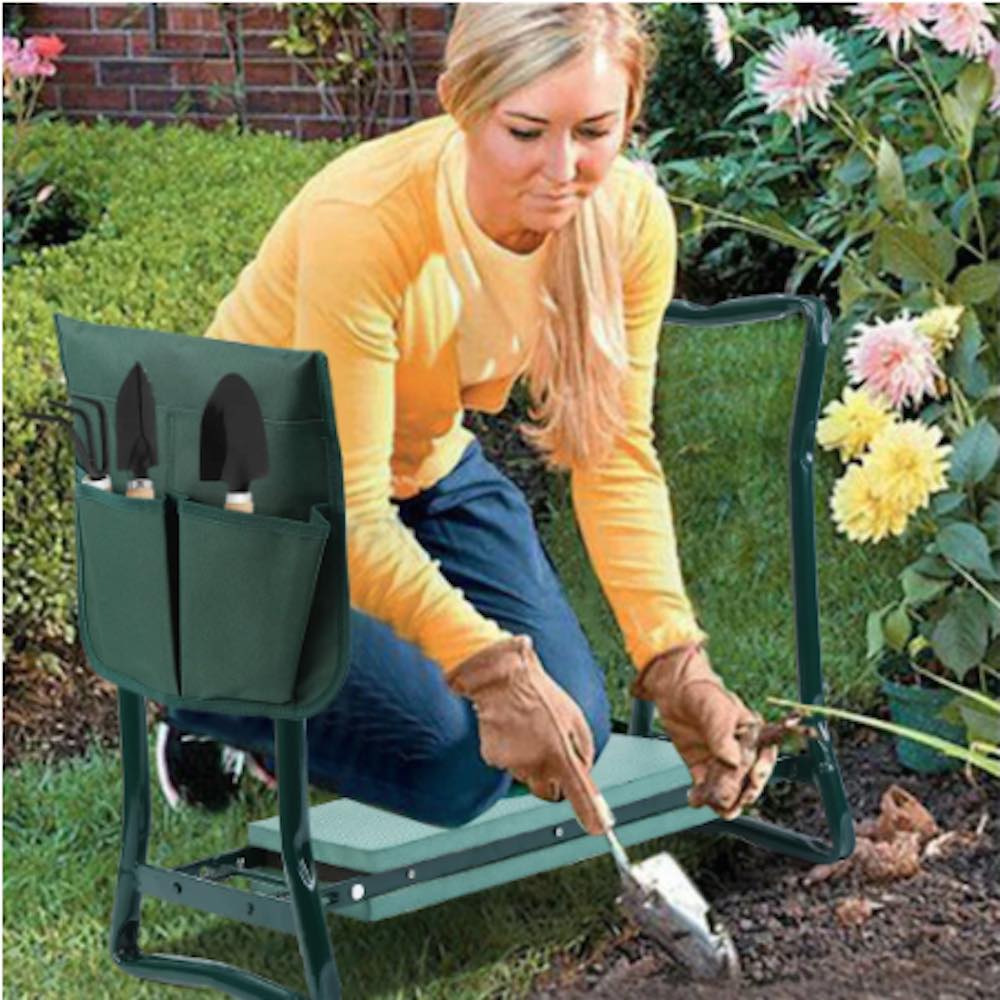 Folding Garden Kneeler And Seat 2 and 1 with Pouch
INCLUDES FREE FAST DELIVERY ACROSS SINGAPORE ON ALL ORDERS OF $50+ or more (save $22)
3 DAY JUNE SUPER SALE … Don't Miss Out

Product Dimentions 57cm | 22.5"(L) x 27cm | 10.6"(W) x 12.7cm | 5"(H). Weight: 2.6kg | 5.7 lbs
Can hold up to: 135kg | 300lbs
The practical everyday helper – perfect for gardening.

DUE TO CURRENT DEMAND
PLEASE ALLOW 5-7 DAYS DELIVERY
"My husband and I are both over 65 and not the smallest people (our weight together is over 225kg | 500 lbs), but when the kneeler is flipped over into a seat, it was wide enough for each of us to sit comfortably. As a seat, it is very sturdy."
"I've used it to garden, to put up my feet while reading on the deck, and have comfortably sat on it while watching the birds in the backyard."
"This is a total win-win product. I was hesitant about spending the money, but it truly is worth every penny!!!"
VERSATILE DESIGN
The stable knee and garden bench is an ideal helper not only for garden work in a kneeling position. Simply by turning it over, the knee bench turns into a bench and serves you e.g. when repairing your bike as a comfortable seat.
COMFORTABLE CUSHION EVA FOAM MAT
Whether you use it as a knee or a garden bench, the comfortable upholstery will serve you well. Hold up to 135kg | 300 pounds great for holding to get up from the ground and will never fall down.
LIGHTWEIGHT AND EASY TO FOLD
The knee and garden bench can be easily folded up so that it can be easily transported and stored in the garage, garden shed, or cellar to save space.
TWO BONUS TOOL POUCHES
Two storage bags not only make it easy to organize your tools but also prevent the tools from being left in the garden
Frequently Asked Questions About The Folding Garden Kneeler And Seat
What is the manufacturer's weight limit?
At 105kg | 230 lbs. I have no problem and feel no give or stress on the unit. I find the unit very well constructed. The pads are stable and well constructed.
When it is the down position, can you put your hands on the side members and raise yourself up?
If you mean when the "seat" is at the lowest, then yes, you can absolutely raise yourself up by using the sides to support yourself. This is a great buy!
How hard is it to open and close? My hands are arthritic.
It is not very hard. The latches are spring-loaded and it requires a few pounds to force to unlatch the stool's legs. You can use two hands, which makes it that much easier.
Is the material between the two foam pads plastic or metal?
On the long edges, it's metal & on the short edges (the depth) it's plastic. Feels like really strong plastic though. I'm happy with mine…it's really sturdy & has held up so far.